Coming soon on "Johren" Platform
2021/06/10 (Thu)
Thank you very much for playing "DEAD OR ALIVE Xtreme Venus Vacation."
In the near future, we will be releasing "DEAD OR ALIVE Xtreme Venus Vacation" on the
Johren games platform
.

As the Johren version debuts, we would like to take this opportunity to showcase our game's allure, and offer our new Owners useful information on how to start enjoying their brand-new Venus Vacation experience!
| | |
| --- | --- |
| | ■『DEAD OR ALIVE Xtreme Venus Vacation』Game Overview |
Enjoy a sweet getaway on a tropical island, with the girls from the "DEAD OR ALIVE" franchise, in this Vacation game on Windows PC! Brand-new, original characters will also arrive on the island one after another! Conquer the "Venus Festival" and get closer to the girls!
(Basic Free Play / In-game purchase available)
In order to have fun in the sun with our numerous Girls, you will need to invite the Girls to your Island, and one method to do so is to obtain the Girls' highest-rarity SSR swimsuits. Newly-arrived Owners stand to earn up to
3 SSR swimsuits
, and there are plenty of possibilities to obtain more swimsuits and progress in the game!
※ You cannot share progress between "Johren" based and "Steam" based accounts.
As you progress through the tutorial, the Tutorial Gacha will provide an SSR swimsuit for one of the player-selected starting girls.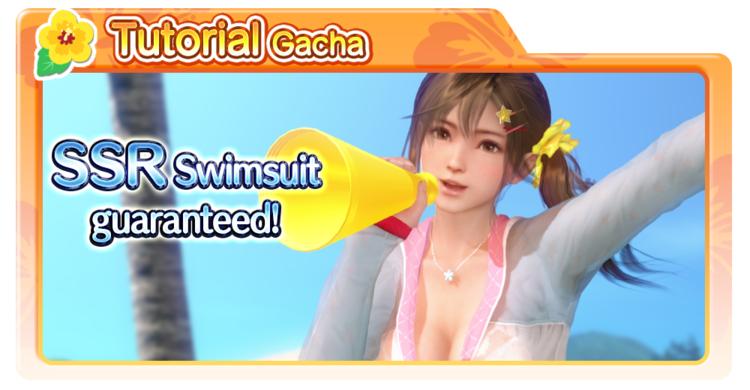 Upon the completion of the tutorial, the "New Owner Login Bonus" will be available to all newly registered players. The login bonus will last for 2 weeks, starting from the first log in. Details of the login bonus can be found below.
Login Bonus
1st Time
SSR Ticket x 1
2nd Time
Zack Dollars x 100,000
3rd Time
Episode Coins x 20
4th Time
Trendy Ticket x 5
5th Time
Mark of Gratitude x 1
6th Time
V-Stones x 2500
7th Time
Skill Awakening Gem x 1
Ranking up to License Rank B will earn you enough "SSR Gacha Coupons" to exchange for one "SSR Ticket"!
※ It is possible to exchange "SSR Gacha Coupons" x8 for "SSR Ticket" x1.
※ You can exchange for SSR Tickets by going to "Shop" → "Event Shop" → "Exchange SSR Ticket Coupon"
Mission
Reward
Advance to E Rank
SSR Gacha Couponx2
Advance to D Rank
SSR Gacha Couponx2
Advance to C Rank
SSR Gacha Couponx2
Advance to B Rank
SSR Gacha Couponx2
You can obtain even more fantastic rewards to upgrade the swimsuits by clearing the Main Festivals! Improve the swimsuits and set your sights on clearing the Festivals!
The "Start Dash Gacha" will be available!
This new Gacha will be available to new players for
1 week
upon starting the game.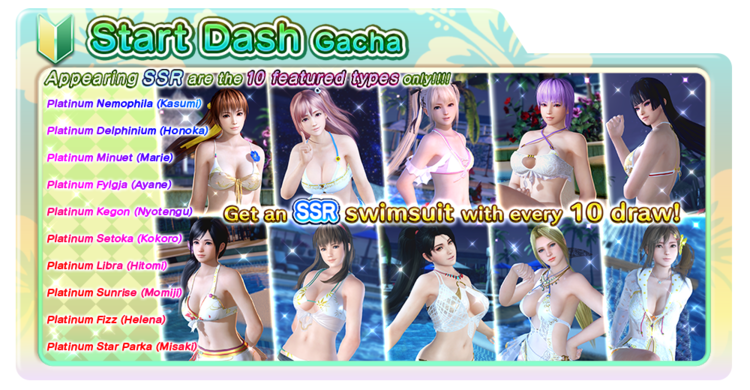 | | |
| --- | --- |
| ※ | "Start Dash Gacha" can only be drawn with Paid V-Stones |
| ※ | The outfit(s) appeared this time round, may reappear in the future. |
| ※ | The above Gacha may only be drawn once. |
| ※ | Specifications for Gacha may change without prior notice. |
Players will be able to purchase V-Stones at DOUBLE the value in the "V Stone Shop," once.
Items (Regular Amount)
Items (When Doubled)
V-Stones x 100
V-Stones x 200
V-Stones x 1100
V-Stones x 2200
V-Stones x 2300
V-Stones x 4600
V-Stones x 3600
V-Stones x 7200
V-Stones x 6500
V-Stones x 13000
V-Stones x 14000
V-Stones x 28000
| | |
| --- | --- |
| ※ | The double value will be applied to each product. |
| ※ | The doubled value only applies after the maintenance on 2020/07/01 (Wed), and is applicable once per item in the shop |
| ※ | From the second purchase onwards, the V-Stones will return to it's original value, players will not recieve the doubled value again. |
| ※ | Purchases made before the maintenance on 2020/07/01 (Wed) will not receive the doubled value. |
Thank you for your support, and we hope you continue to enjoy playing "DEAD OR ALIVE Xtreme Venus Vacation."